Chrome Glow Fork Signals
---
*sigh* here we go again. Anyone wired these with the run/turn elements?

The output of the run/turn elements have a yellow 'turn' wire, and an orange 'running' wire.

The led strips have a yellow and a black (ground) wire.

I must've wired something wrong because I blew the bikes signal fuse.
Can't wait to see what I manage to do when I stick the HID in... har.
Senior Member
Join Date: May 2010
Location: HOUSTON TEXAS
Posts: 574
Which ones did you order. What length. How do they look. Can you post a pic?
I ordered these
LED Fork Light Turn Signal Kits - Chrome Glow
with the run/turn circuit.
I ordered the 46mm length and expect to need to possibly pad the zip tie out a little to accommodate the extra 1mm. I haven't permanently afixed them yet.
Haven't got to see them in action yet as I somehow managed to screw up something as simple as connecting two wires to... well... two wires. I blew a fuse. I just hope I haven't blown the leds as well.
I'm actually thinking I may do away with the run/turn circuit as the HID should look all kinds of awesome on its own.
Replaced the fuses. All good.

Leds are fine, however I can't get a turn signal out of the run/turn circuit. I can get a running light voltage, but no turn voltage.
I tried 2 different sets of these and ended up scrapping them. PITA.

You need a resistor element to have run/turn signals. The yellow and orange wire hook up to the resistor and then the other side hooks up to the yellow of the strip. The resistor allows half voltage while running and then full voltage when the turn signal is on.
---
86 Intruder; 79 XS650; 11 Fury #776
Freedom is life behind bars.
Only a biker knows why a dog sticks his head out of a car window
Yeah. I scrapped the run/turn circuit. Now im on to the 6k dual hid. Had to extend all the wires under the tank and back to the side cover by the battery. All works so far.
I'll have a nice circuit before too much longer.. a lot going on at work lately.. unfortunately I can't just quit and make electronic circuits for a living.
Check out my thread on run turn brake. Any input would be appreciated!

Sent from my DROID RAZR using Motorcycle.com Free App
---
PEARL WHITE #000009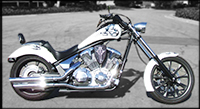 its all good. i decided it looked better without running lights. running lights aren't going to make me any more visible than 6k hid i just put in.