That time of year again
---
Well waking up this morning to snow flurries,weather forcasting mid 30* for the next week and Moose hunting season on
in some parts.........
It was time to bring Mean Moose back into the house for the coming winter, where it will be safe, warm and away from the cold damp garage. And the few winter mods I have planned for it can begin shortly. Sad day that I decided to put it away for the winter, but knowing I will be able to work on it in the comfort of the front room when it is -20* and three feet of snow on the ground is a bit of a relief
Plus the fact, the dog needed some company when I am not home
It has been a great riding season and have met a number of members this summer on my rides and great to meet you all!
Just shy of 9000 miles this year!
Come on spring time!!!!!
but for now.......
Let the mods begin!!!!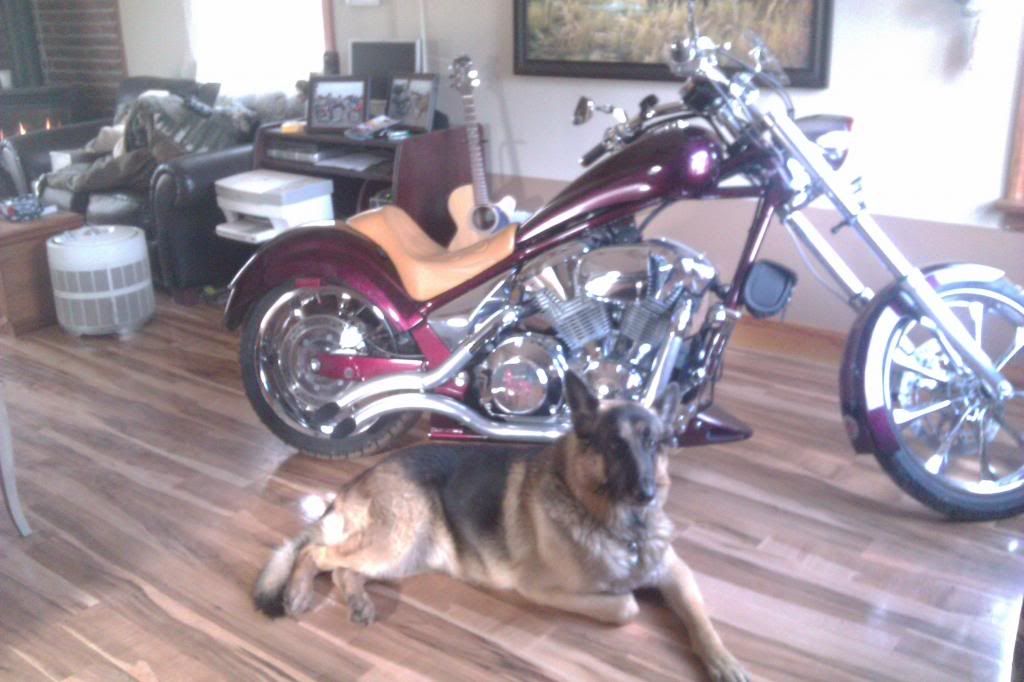 ---
BEER HOG
SEPT. 2012 FURY OF THE MONTH
MAY 2015 FURY OF THE MONTH
2015 FURY OF THE YEAR
---
Last edited by Sludge; 11-03-2012 at

05:10 PM

. Reason: forgot to mention
Do you have any plans for the winter or is the angry moose done???

Sent from my DROID RAZR using Motorcycle.com Free App
---
"ZOMB3" Aug. 2012 Fury of the Month
Sumo X kit, Platinum air ride, DLX Grips & Pegs, Billet Blade Levers, Spike Intake, PCV, Raw Designs Blades, MFR 3" Forwards and Pipe. 23" front wheel, 10* trees
A few minor changes thats all
But my theme of the Canadian Mean Moose will still be there
Getting a new tattoo in a few weeks and well so will the bike
just a little hint for ya
---
BEER HOG
SEPT. 2012 FURY OF THE MONTH
MAY 2015 FURY OF THE MONTH
2015 FURY OF THE YEAR
Yeah this is a tough time of year. It's in the 30-50's here in central Illinois but mid 50's and sunny next week!!! Probably get out a couple time hopefully
---
Good of you to think of keeping "Man's Best Friend" company like that.
Bet the Mean Moose is in safe keeping with that furry one around!
Stay warm and keep us posted.