Blizzard
---
Oh how I hate winter! Suppose to get 8-12" of snow with 40 mph winds today in Ohio!!! Haven't had to use my snow shovel for two years hope I can find it!

Sinister1
---
sinster1-2010 matte silver,accutronix side mount plate holder,zombie levers,MFR MONGOS,custom mirrors,DLX spike t-band chrome grips,accutronix air cleaner adapter,demons cycle spike chrome air cleaner,L&M lowering spring
Senior Member
Join Date: Apr 2011
Location: Southern Adirondack Mountains of Upstate, NY
Posts: 1,956
ten to sixteen inches here tonight..........screw winter......................t
---
____________________________
........."Roll Tide"
8-12" here tonight as well. Oh can't wait!
I don't know why I still live here.
---
Man I feel for you guys we get to ride the year around in fl, and I love it but summers suck.

Sent from my SAMSUNG-SGH-I747 using Motorcycle.com Free App
Guess I'm lucky here is Dayton, OH. Only 6-10" in the forecast. Looks like we have about 6"s already with the worst to start early afternoon. It's thundering here, strange.
Went to Wally World about 7am and stocked up on Bacon, Eggs & Beer. I'm set!
---
Judge, Jury & Bulldozer
---
Last edited by Richard1; 12-26-2012 at

10:40 AM

.
Just started snowing, here we go. Thank God don have to go back to work till Jan. 2nd

Sinister1
---
sinster1-2010 matte silver,accutronix side mount plate holder,zombie levers,MFR MONGOS,custom mirrors,DLX spike t-band chrome grips,accutronix air cleaner adapter,demons cycle spike chrome air cleaner,L&M lowering spring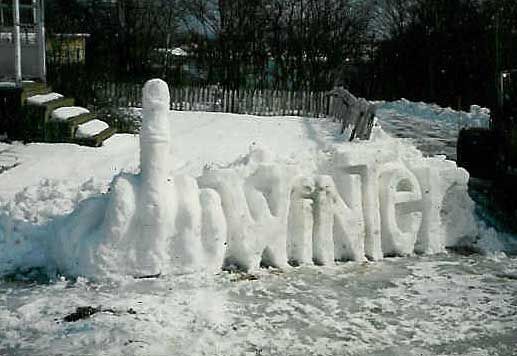 ---
"It is better to live one day as a lion than a hundred years as a sheep."
10 wasted hours today of clearing this shit & will be back out at 4am
Senior Member
Join Date: May 2010
Location: HOUSTON TEXAS
Posts: 574
The only ice i see here in houston tx is inside my freezer. Lol