Junior Member
Join Date: Dec 2010
Posts: 7
Honda VT1300 Bagger
---
They finally released the photos and its on Hell for Leather, what do you guys think? Are baggers done? To me a bagger isnt really a trend, sure they are popular right now but really?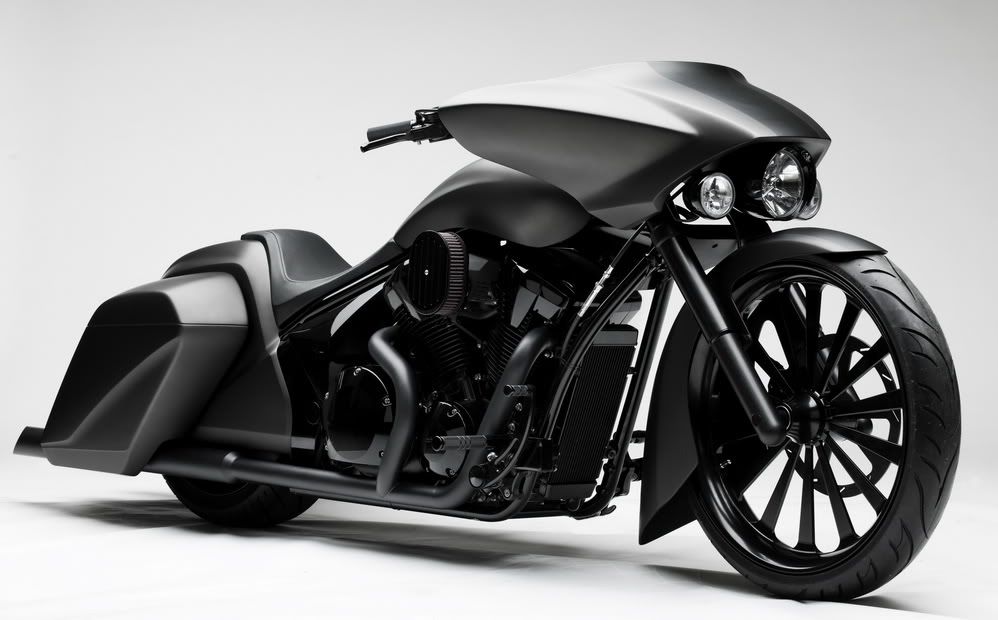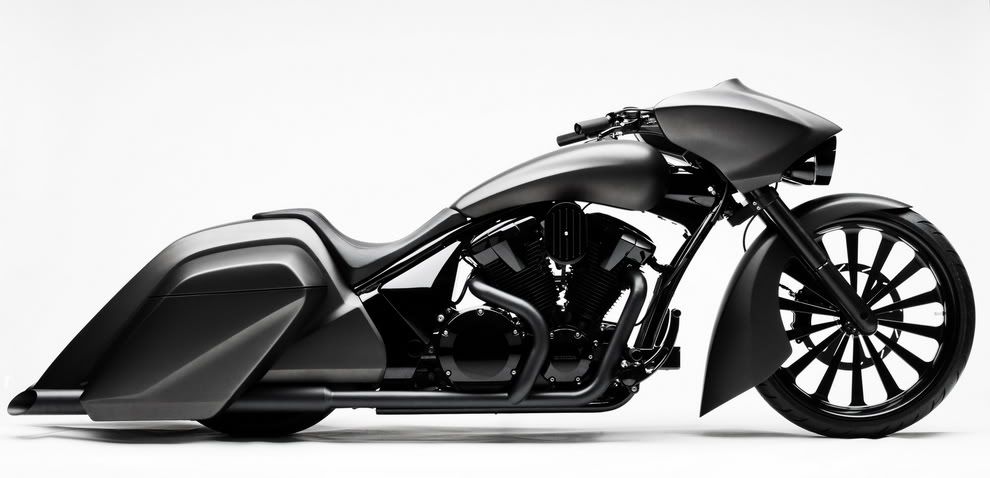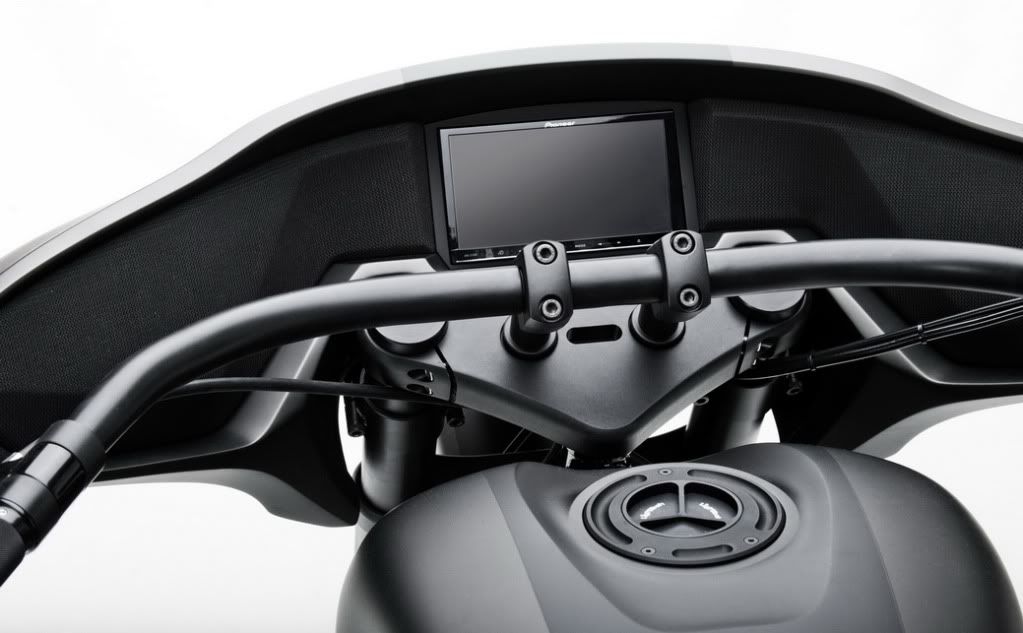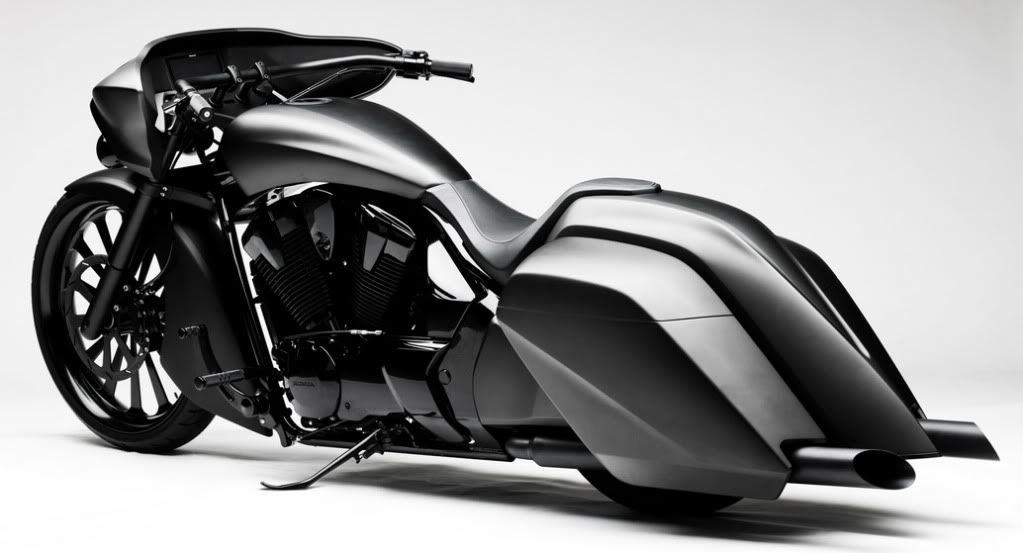 That is unique!! I love it. Was there anything more than just pics?? Specs??
I'm loving this bike. I never would have thought I'd like a bagger but this one I do. I'm liking the color and everything about it. I wouldn't trade my fury for it though
---
August 2010 FOTM
Senior Member
Join Date: Jul 2009
Location: Milford, CT
Posts: 2,483
The more I look at it, the more it grows on me. I'd love to see it fleshed out beyond an R&D project.

Baggers will never be done, people will always want to haul stuff and be comfy, and Goldwings aren't for everybody.
---
Reaper theme paint by Painter, Sweeping Beater Apes by BR Custom, DNA/Ridewright Fat-spoke wheels, Dakota Digital speedo, MFR Custom Pipes, Thunder MFG adapter, Velocity Stack Air Intake, C&C Snakeskin SportTour seat, DNA +6 Springer, Kury Chrome Engine Covers, Accutronix side plate mount, Irate grill, Demons Cycle LED mirrors, Chrome Glow LED rear signal, DynoJet Controller, Ginz Hardcore Teepee Sissy Bar, Dlxprodox Mini floorboards...
THAT BIKE IS SEX ON WHEELS!!!
I got these about a week ago. I have been talking to Erik Dunshee, the designer of the bike for about a month. He is putting together a full list of the componets on the bike for me but did give me a few basics about it:
"...There are no plans at the moment to make any more and I can assure you the actual bike will not be sold and will come back to Honda. Honda R&D would not sell you a bike if they changed the seat & handlebars let alone what I did because of liability issues.
Its awesome you like the bike and I'm really happy to hear it, but you cant buy it. I can give you a list of all the parts that went into the build but that wont get you the bodywork as that was completely custom and not aviailible at this time. The good news is that the frame is completely stock and so is the engine and power supply (minus for the show we needed a power inverter so it plugged in for power). Please keep in mind there is a lot of small modification even with bolt up items at times. Let me know if you want a detailed list and again thanks for your great feedback on the bike, I will be sure to let you know when we release the studio shots of the bike that look pretty sick. I think they are planning on getting them out sometime before the next show, thanks again Clinton.
Erik Dunshee."
Some quick key components you can buy:
Custom Spec design 23" front wheel - Aaron - keep in mind this was a for a full front covert.
Custom Motorcycle Builders | Glenndyne Design
Full Front End & Rear Air Ride shock
Arnie - Tricky Air & Billet
Welcome to Tricky Air & Billet
Foot Controls & Air Cleaner adapter and cover
Troy - Accutronix
Accutronix
Handcontrols & Grips
Joker Machine
Joker Machine Welcome's You!
Handlebars- Modified Chubby Low Beachbars
Jonny
Wild 1 Inc. - Custom Handlebars for Harley Davidson, Wild 1 Chubby Handlebars, parts and accessories
I am still waiting on that list but I will post it up once I receive it.
I'll tell you one thing, if that bike was mine the bottom of those bags would be GONE in no time!
Senior Member
Join Date: Feb 2010
Posts: 3,348
Al tho, A little birdie told me some bagger, bandit stuff, for the fury was coming out real soon.
I loved that concept bike.
Junior Member
Join Date: Dec 2010
Posts: 7
I pulled this directly form the Honda website
Honda Media Newsroom - Slammer - 2010 Custom VT1300 Series Concepts
01/10/2011
Starting with 2010 Honda VT1300's 3 young designers from Honda Reseach & Development Americas located in Southern Calinfornia were given the opportunity to build customs based on where their visions would take the Fury, Stateline & Sabre. The designers were given free reign within a limited budget and 2 requirements, full on runners, and stay true to the core of the production vehicle. Another reality was that the designers had only 3 months to realize their builds from start to finish. The Furious (Chopper), Switchblade (ProDrag) and Slammer (Bagger) debuted at the December 17th 2010 Long Beach, CA International Motorcycle show and will continue on the nationwide tour through 2011.
2010 Stateline "Slammer" (Bagger)
Based on a 2010 Stateline, designer Erik Dunshee (Honda R&D Americas) reveals the life of low. Fueled by elegance and power the Slammer sports a fully adjustable air-ride suspension, NAV/Multimedia, 10" subwoofer and 500 watts of power. With a full front end conversion, including a lean 23" custom wheel, the designer achieved all this without frame or engine modification. Low has never looked so good.
Specs
- Stock: Frame, swing arm, VT1300cc engine and tank
- 23" Spec designed front wheel
- Fully "Air ride adjustable" front & rear suspension 6" ride height to 2.25" lowered
- Composite coated narrow track front rotor with 6 piston caliper
- Nav/Multimedia Head unit with GPS speed display
- 3 speaker including a 10" subwoofer 500 watt sound system
- Full custom bodywork including a leather drop seat
- 2 tone Satin metallic black & pearl black paint
- Custom Spec crossover twin pipe exhaust
- Air/Box/cleaner Conversion
As I said on the other thread related to these pics... Erik Dunshee is a true artist... baggers (IMO) generally look blocky & pieced together... this bike is a truly fine design which flows... damn thing looks like its moving while sitting still, and that really talks to its lines. Still not likely to ever buy a bagger, but if I did, it would only be for a bike like this one.
---
Freedom is never free!