Senior Member
Join Date: Sep 2009
Location: Hallandale Beach, Florida
Posts: 2,545
+1 for Tacobruiser.

worked with me on payment and shipped same day payment was received. Tire and signals were as described. Packaging was perfect.

Good guy!!
Senior Member
Join Date: Apr 2011
Location: Southern Adirondack Mountains of Upstate, NY
Posts: 1,958
a big shout out for Taco Bruiser, good guy to deal with.................t
---
____________________________
........."Roll Tide"
another +1 for Taco Bruiser - great deal, quality part and quick ship!

Thanks!
---
PEARL WHITE #000009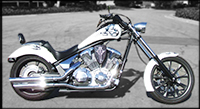 +1 for Very Positive workings with the following:

TAZ
Easy E
Wakelucky
ALEYRAY
Ohiofury69
Like to thank Mike aka (MFR) and ikya for giving up a shifter arm so I can try to get billet custom pegs and foot controls made for the fury.
I will post pics and info as soon as we come up with something that works and looks good.
MFR is the man he has been talked about on other posts. +1 for the taillight mod. Nevermind the gay ass pink Helmut......it's the wifeys

Sent from my SCH-I535 using Motorcycle.com App
+1 For TAZ
& TacoBruiser.

Both go out of their way to deliver the goods.
---
MELIORA SPERO