She's still too young to ride but she's counting the days!
---
Part of the "Flasher" gang
counting down the days till she can ride LOVE IT she will have a blast....... mine cant wait every time i pick her up on weekends.
---
Jeffro
Senior Member
Join Date: Aug 2012
Posts: 332
Quote:
Here's my little one!! Daddies helmet and goggles are a little big, but she insisted on putting them on for the picture. Unfortunately I can't take her out on the bike. My ex wife would hit the roof, she gets pissed when I ride her around the yard on the tractor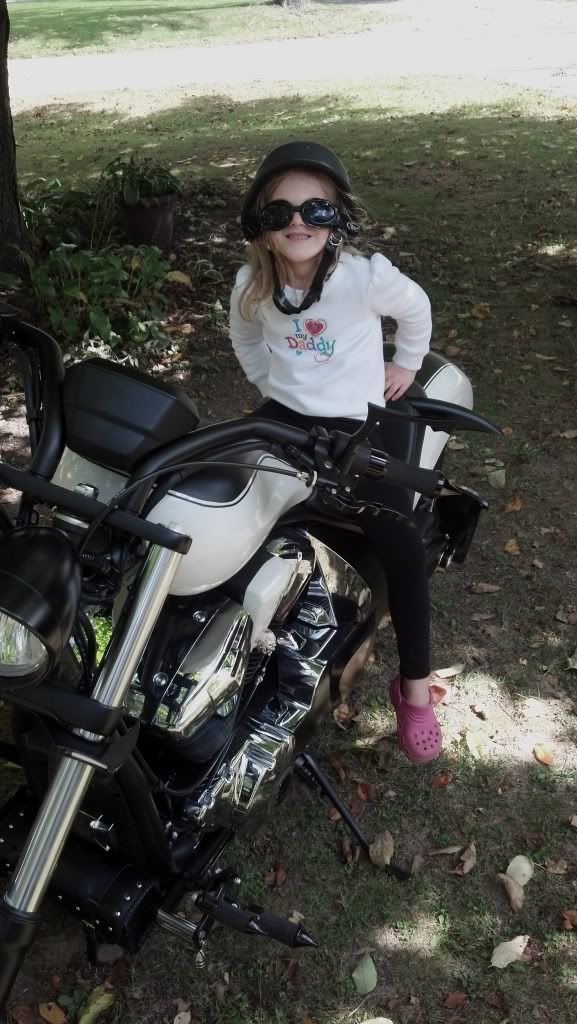 Sent from my DROID RAZR using Motorcycle.com Free App
Cute kid...
---
Last edited by Wildman; 11-21-2012 at

12:46 PM

.
Member
Join Date: Sep 2012
Location: Woodbury,Tn
Posts: 51
http://www.furyforums.com/forum/showthread.php?t=13699
Sent from my iPhone using
Motorcycle.com Free App
Senior Member
Join Date: Aug 2011
Location: In the country between Wichita Falls and Iowa Park, Tx
Posts: 516
This is what its all about!!!! Hot chicks are one thing.....But these "Baby Girls" are top of the line!!!!....And, THEY FIT the bikes!!!....I like the posts!! I dont have a baby girl but I'll find one to put on my bike!!!!...Keep 'em comin' felllas!~!!
she's rockin my Fury & ready to ride
---
Jeffro
I don't have kids myself but I do have twin nieces that do ride with us from time to time.
This is my mini me on my bike
---
2012 Fury of the Year
June 2012 Fury of the Month
looking good!!!!!!!!!!!! future Fury riders hahaha
---
Jeffro
---
another pic of my baby girl................. future fury rider
---
Jeffro