Well I wanted to start my own thread on this since they are starting to pop up everywhere. It gives me a bit of a chance to document what I'll be doing to my bike as I go as well as trap any information for the future that might be easily accessible.
I want to give a big thanks for
Kbuskill and NDM
for the help thus far, especially Kb for diving in and leading the charge for the rest of us that go the same route!
So here are the part numbers so far that I'll be gathering:

Cylinder Options:
Bimba is the 702-DXP cylinder
Parker is the 3.00 DXP SR Y 2.00 (no wiper) or 3.00 DXP SRW Y 2.00 (with wiper) (Y denotes stainless steel shaft): I purchased the Parker model from a local rep. These 3 models as far as I can tell share identical dimensions.
McMaster Carr PN 6498K692: Double-Acting, Universal Mount, 3" Bore Size, 2" Stroke Length
Air Resevoir
Bimba's air tank is Part number D-17469-A-5. The -5 denotes the length of the actual holding portion of the cylinder, not the OAL (Overall length). So the -5 would have a 3" dia. x 5" holding length, or a 35.325 CI volume. The -4 reservoir has a 3" dia x 4" holding length, or 28.26 CI volume. This is actually if you want a holding tank. Most kits you buy don't have a holding tank.
I purchased the -4. I got a killer deal on one that I couldn't pass up. It may not hold as well, but it will give me a bit more room for fittings and such without stressing tubing. We'll see how it works functionally
There is also an option to use a paintball tank, and I believe 35 CI volume is around the correct size. Correct if I'm wrong
Pressure Switch:
Something in the 150/180 psi range. This might vary based on rider weights though, depending if you're planning on airing up while on the bike, single or 2-up, etc. I know this was recommended by Kb in another thread.
Vixen Horns 150-180 PSI Air Pressure Switch Tank Mount Type 1/4" NPT 12V/24V (advisable to use 1/8 NPT thread, less bulk)
You can make your own leads off of this.
Toggle Valves:
You can choose the direction you want to go here. You can use a solenoid operated valve and hook it to electronics with a relay, or you can use any variation of paddle valves.
I chose these Paddle valves because they had a push-connect port at the backside. I've only seen them on ebay so far, so not sure how long they will be there: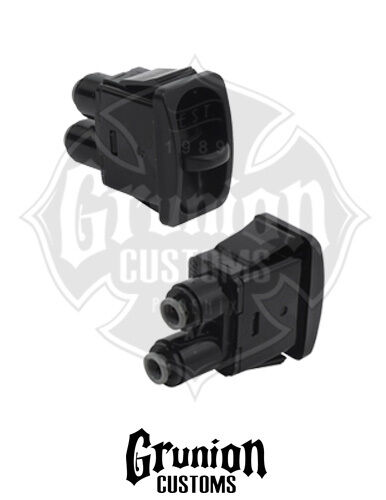 Compressor:
Viair 275C. It fits, it's proven:
Tubing:
D.O.T. rated, length will vary depending on your setup. I chose 1200 psi min burst strength, 1/4"
Fittings:
Various/Optional:
Frame protection (for compressor and tank) tubing
Stainless steel band clamps
1/4" push-connect schrader valves (if you want to be able to fill in case of a system failure):


(2X) Prestacycle 1/4 barbed fitting for schrader valves (to run to a gauge)


1/4" in-line push-connect shut of valve (if bike sits for a long time, prevent flow from leaking into cylinder...I'm not sure how often this happens or what would cause it, but there are some photos Steve (STG) posted a while ago of a bike that tipped over because of it):

Viair 220 psi dual needle pressure gauge (black or white face):
[ame]https://www.amazon.com/Viair-90080-Dual-Needle-Gauge/dp/B005UG9OVU[/ame]
Bump Stop: 3/4" ID x 2.0" OD x .5" thick
I'll be updating this thread as I go, as well as updating the above list as there are a few things that I haven't tackled yet that I'm looking into!