Alright well I had this write-up almost initially completed, and the forum crashed on me and I lost everything. So I'm going to not go in depth as much with my initial description of the issue, why it happens, but it can be found if you jump on the VTX forums.
Issue Background:
When cold, in first gear, on startup, the bike will "jump" or "lurch" forward when releasing the clutch, and make a terrible grinding/metallic noise. It usually only does it once.
Theory of Why:
Not enough oil getting to the center of the clutch pack. The disks and plates will stick together. When you release the clutch that first time, the disks are a big spinning mass. The pressure plate, instead of catching each disk then plate sequentially, allowing for a smooth engagement, will essentially catch the spinning mass of disks/plates and slam the bike into engagement. That's the lurch/jump. After it does this once, the plates will be broken up, which is why it doesn't happen again.
Theory for Solution:
Drill inner clutch hub (not basket) evenly with a 3/16" drill to promote oil flow out through the parts of the clutch pack that don't normally get oil (center). Promotes lubrication for the wet clutch, as well as cooling and separation at startup.
Now whether this works or not, or this is the issue is up for debate, so take it with a grain of salt, but it seems to have worked for everyone who has done it for their VTX 1300/1800. I decided to go for it. It can't hurt, it's an old MX trick as well.
I'll skip the instructions for draining the oil and removing the exhaust pipes/platichrome. Some say you don't have to drain the oil if you put her on blocks and lean on the kickstand, but for me it was just as easy to drain.
Drain the oil and remove the transmission cover bolts. There are long and short bolts. They are easy to remember where to go, as there are only 2 lengths. You can tell where they need to end up by the thickness of the cover.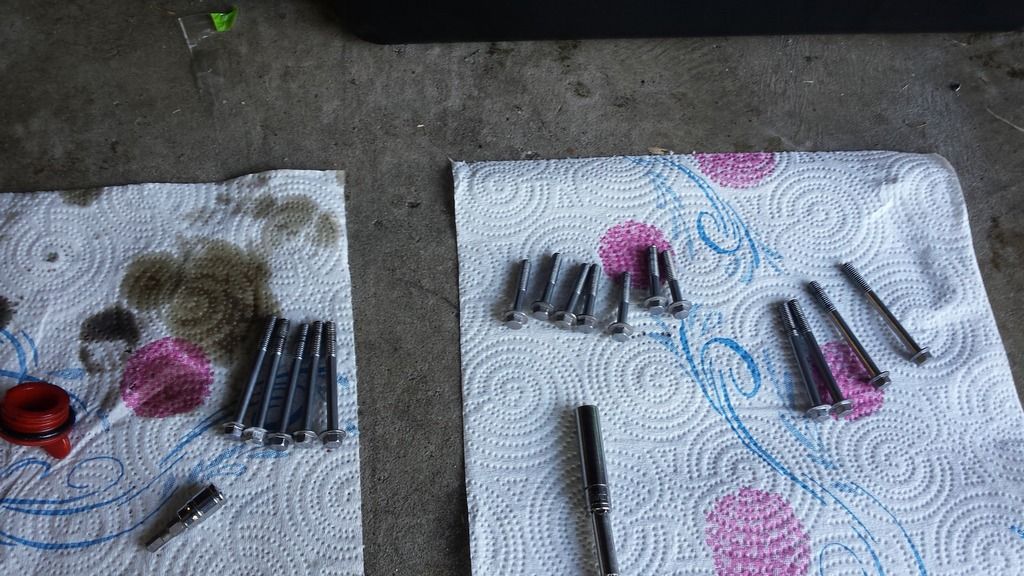 Next pry the cover off. I had to use a big 1-1/4 box end wrench. There are tabs on the transmission cover. I used the one by the rear cylinder head and leveraged off of the fins. It will come off with a "pop". Note that behind the cover are 2 pins that will come out with it that locate the cover on the block.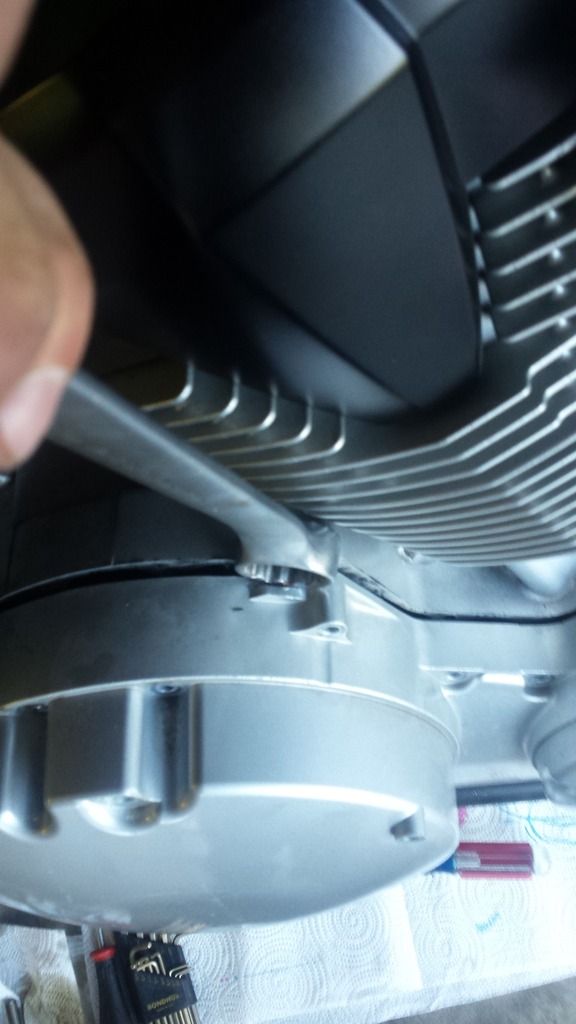 This is what you will see: the clutch pressure plate and bolts are on the left: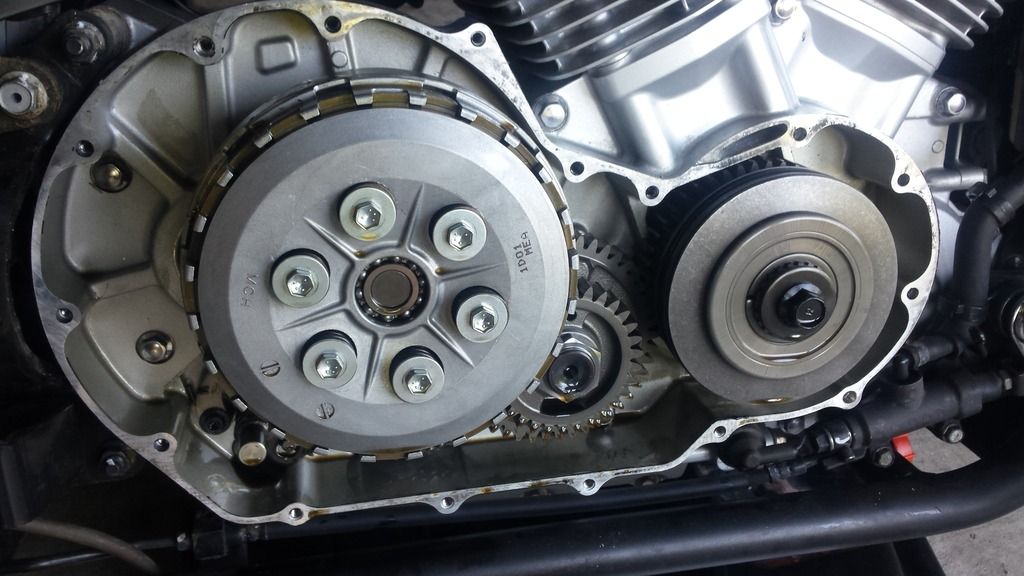 Remove the 10mm bolts: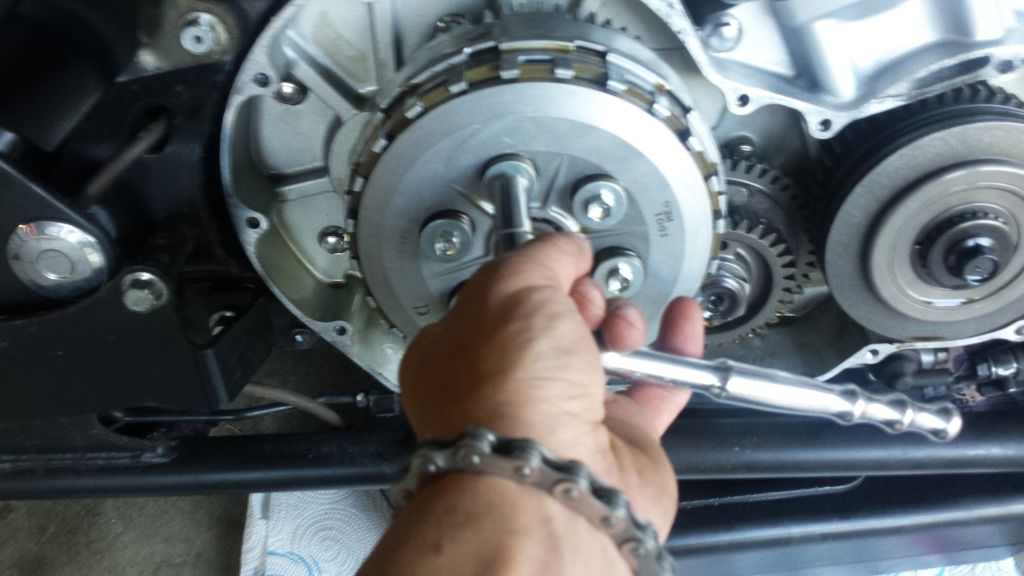 Closer look after bolts and springs removed: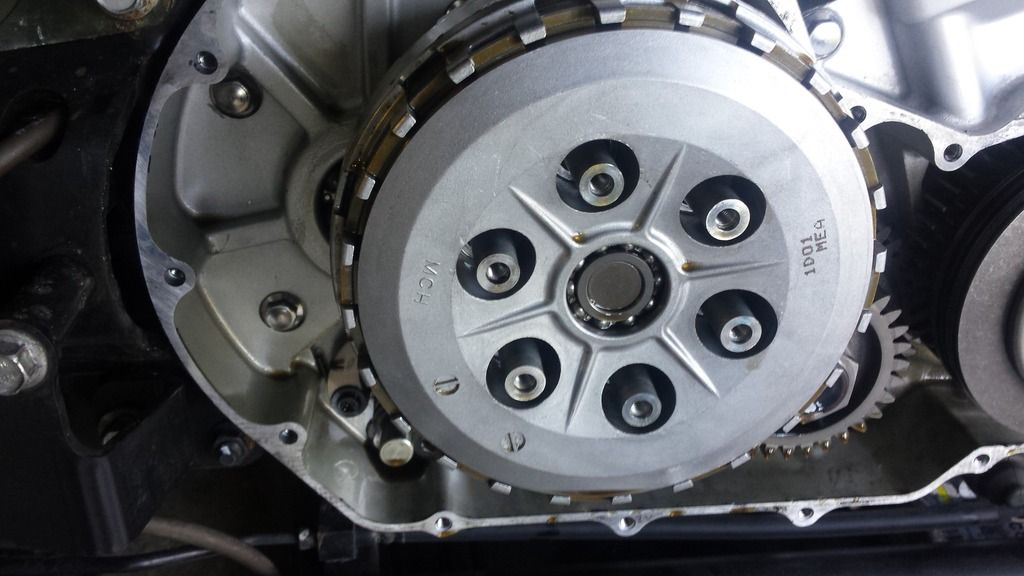 Pop the pressure plate off and you can see the clutch pack. In the center of the clutch pack is the pushrod keeper, which rides on that bearing and actually pushes the pressure plate off: