JetBlu ready for 2011
So, JetBlu is finally complete, for now. I learned alot with this tear down, and hope to pass that info along to those out there who may need it. Just like any other project it had its ups and downs. Im sure im going to forget some things, but ill post them as i remember. This tear down and rebuild all started around Oct. last year, and was finally completed just this past week. I had some vendors come through the first time, and other who had to work a bit harder to get the job done. But now that it has all come together, just looking at her makes it all worth while. Im sure my first group ride tomorrow will just be the icing on the cake, with all the stares and compliments.
Suggestions
* when restarting the bike, make sure you have removed the tape that you had covering the intake.
* garenteed you will wait for parts. However long you think it will take for any part new or chrome ... DOUBLE IT! I started this tear down in Oct. and im just now finishing it up.
* get yourself a motorcycle jack, it will pay off in spades. Make sure you strap it to the jack, cause its a long way down baby.
Big Thanks
Clueless. Man, i cant tell you how may times i sent this gent a PM. Everything from fluids to tech ?s and he never once let me down. I am going to name my first born Clueless in his honor. Clueless, you are the man.
Sterling.
Sterling's Cycle Accessories.
This guy makes a kick ass seat. I have about 100 miles on the new seat in about 2 different trips, and no lower back pain nor the pain in my tail bone. This new Butt Crack by Danny Gray gets me lower in the bike, which i like. Makes turning easier IMHO. Sterling acutally sent me the seat pan so i could get the pan to sit perfectly on the bike. The issue at hand was when i did my TMod i took a lot out, and the OEM seat pan wouldnt sit right no matter what.
Stump.
stumpwerx.com
Yeah, hes a hard man to get a hold of. But if your persistant his work for the little guy pays off big time. The trim ring really sets off the bike. Yeah, its a small piece, but if you leave the plastic grey piece with everything else done it just wouldnt look finished IMO.
Chrome.
Motorcycle chrome plating (OEM chrome wheels) services | ChromePlating.Com
These guys were the cheapest around. Yeah, i know you get what you pay for, but ... and i say but .. i figured that we me sitting close to salt water and having runs around the shore, the salt will eat at chrome regardless who dips it. The finish right out of the box was fantastic and really sets off the bike. 24 parts ended up costing me under $800. I had 2 other quotes ... 1 @ $1,200 and another @ just over $1,600. Which would you have choose?
L&M. The quality of the parts is 2nd to none. Even with all the hick-ups with cusotmer service Chris did end up coming thru in the end. I will happily pass along his information to other Fury owners.
Lou. His pinstripes on top of the new clear coat is just the eye candy i was looking for. I wanted something to break up the blue, but not take away. Lou hit it out of the park. If your on the Island and need some nice stripes .. 516.223.2651
Must have tools
* snap ring pliers.
* dead blow hammer - Lowes $12
* metric tap & die set - Lowes $22
* blue & red Loctite
And now, ladies and gentlemen...
From this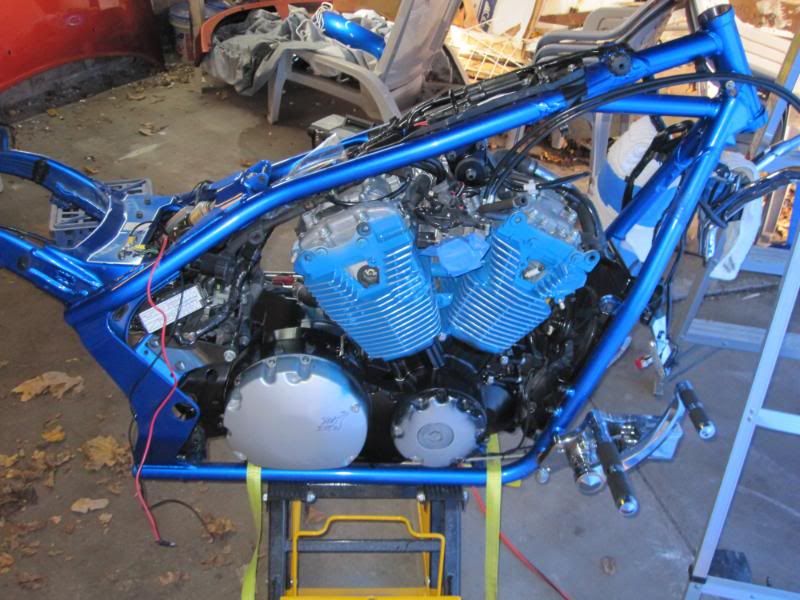 to this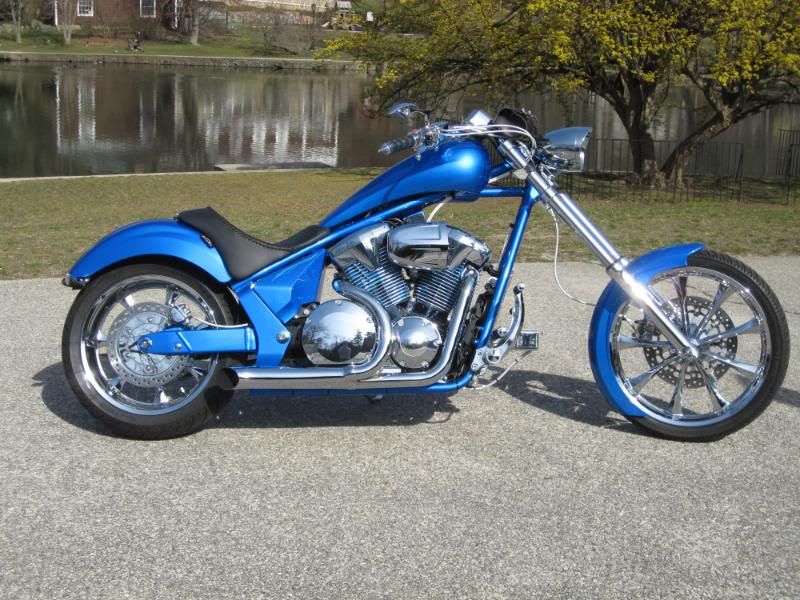 more pics in my new album here
http://www.furyforums.com/forum/members/2009-cbsimonsez-albums485-jetblu-take-2.html