Discussion Starter
•
#1
•
The new speedo has been ordered, Wire Plus T-Bar 2.5" classic black face, chrome body ($229 on special at wire plus, normally $399).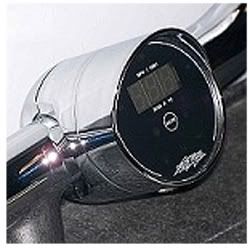 What this means is that the handle bars have been designed and I will be starting work on them this weekend. They won't be ape hangers, they are illegal in Australia, we are only allowed 380mm from the seat to the grips max, I think my 2" risers just about make the originals illegal. Luckily the police here don't have time to read all the ADR regulations so you can push a couple of inches, just so long as your hands are below your ears your probably safe.
I like the feel and position of my original bars with the risers so the new bars will be very similar so as not to lose the original lines to much and grip position. I have taken the risers straight up though to make the front appear longer and have more of a chopper appearance (hopefully). All the wiring will also be internal which will clean it up even more.
The design looks like this, it has 1.5" risers, 1.25" bars & 1" control ends.
So what do you guys all think, not that it matters 'cause they are going on.
Cheers
Guy