UPDATE:IF YOU USE THE VTX SPECIFIC KIT YOU WILL HAVE TO MODIFY THE FACTORY PLASTI-CHROME COVER (aft of the dip stick) FOR A PROPER FIT
I posted earlier about installing my kit and how much of a PITA it was. Well while my video review was uploading to Youtube i did some researching and discovered something that anyone considering this kit should know.
I assumed that since the FURY uses the VTX engine that the kit should be interchangeable, and i've also read about people doing so without a problem. Well unless there is a variation on some of the Fury's, then what i'm about to show you doesn't add up.
Pic 1
Pic 2
Pic 3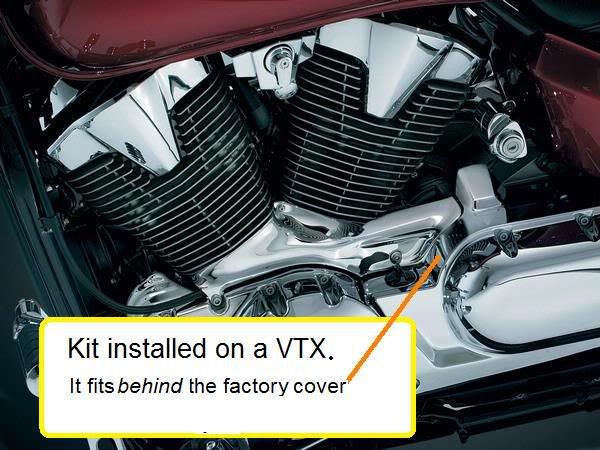 Pic 4
(It looks like Kuryakyn just used the VTX pics for the Fury kit on thier website.)
You can see from the pics that to get the to VTX kury peice to fit you have to do some trimming.
Now i'm not saying that those people that have installed the VTX kit on their Fury's without a problem are wrong, it's just that on my bike, it didn't work out so well.
Maybe there is a variation on our bikes
. I know GM often does mid year variations that drive mechanics nuts!
In my You-tube clips you will hear me talk about having to use a grinder to get mine to fit. Well that's because the chrome Kury peice has to
sit on top of
the factory plasti-chrome cover.
I would really like to see a close-up pic where someone else has installed a VTX kit on a Fury where the problem area is.
Moral of the story; regardless of what you've heard, do your own research, especially before you take a cutting wheel and die grinder to your new parts.