Discussion Starter
·
#1
·
Hi all, yes I am back again with some more photos. This time its the tank bib which is on the bike and completed.
Had it cut from 1.2mm stainless steel (2B) and then slowly beat it to the shape of the tank. This took about 3 hrs, just took it slowly and kept trying it on the tank to see were it needed more hammering. Used my old faithful block of wood with a dish sanded into it and also made another one with a straight curved channel (1/2 pipe) sanded into it. These dishes and pipes only need to be about 10 - 15mm deep.
The hammer I used was a nylon faced, pictured below, which I put a clean curved face on with a dreadnought file. This face only needs to be slightly curved as mine made a million small dents on the surface. These sanded out ok with 320 w&d thru to 600. Then a coarse cut buff and a finish buff.
It is held on with 12mm 3M automotive moulding double sided tape. Sticks like s&*%t to a blanket. It is about .5mm thick so I spent a fair bit of the time panel beating getting the area around the cap to sit down nearly perfectly.
I can supply these, FLAT, it would not be economical to sell them beaten to shape, for around $65 each, $85 with your design. I already have about 6 designs (mine is number 10). Postage is very expensive but if 10 people got together it would only be about $8 each and I could send them to a single address.
Enough talk, here are some photos.
This is one of the first designs, it started as a medi-evil axe.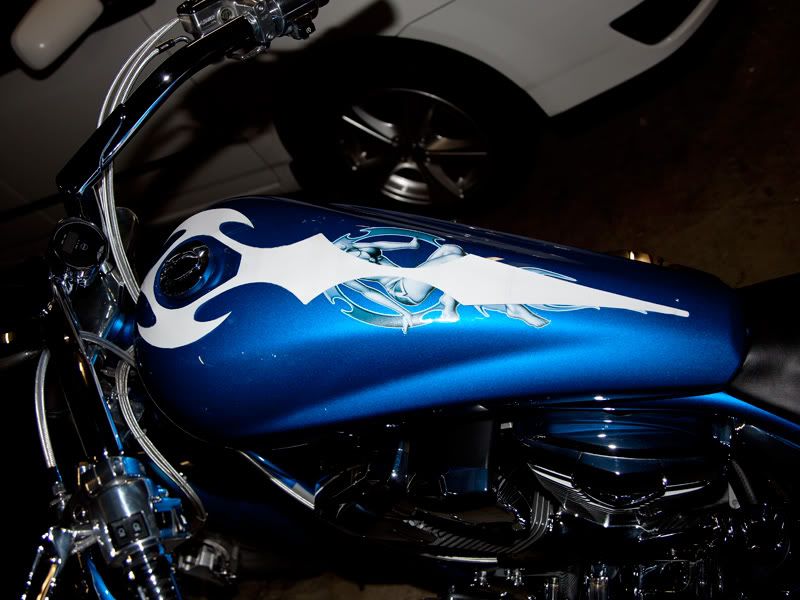 Here is the trusty firewood panel beating shop, with the bib partially beat.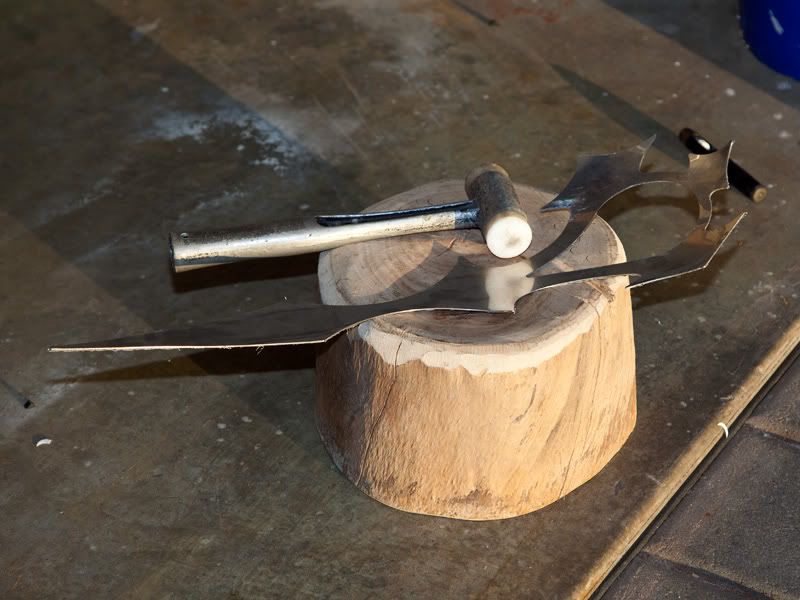 And what you have all been waiting for, the finished product.....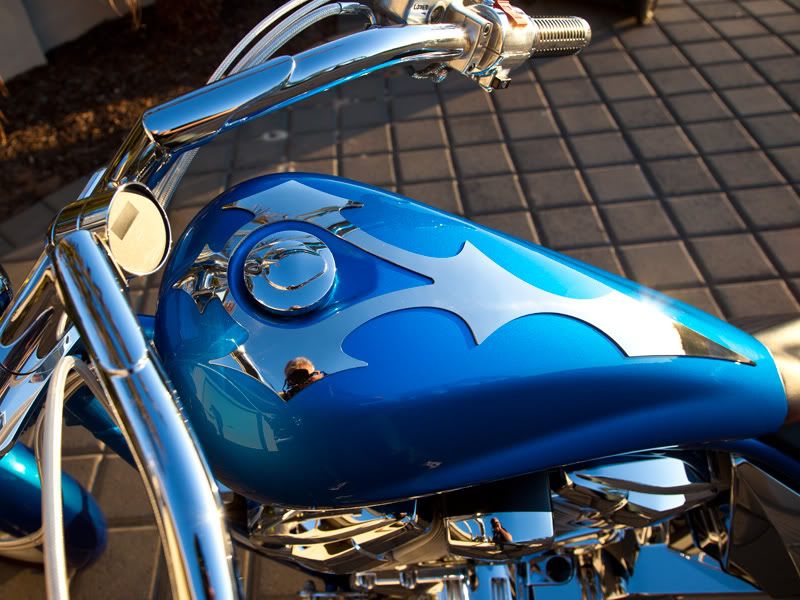 The overall bike with both rear guard and tank bibs on...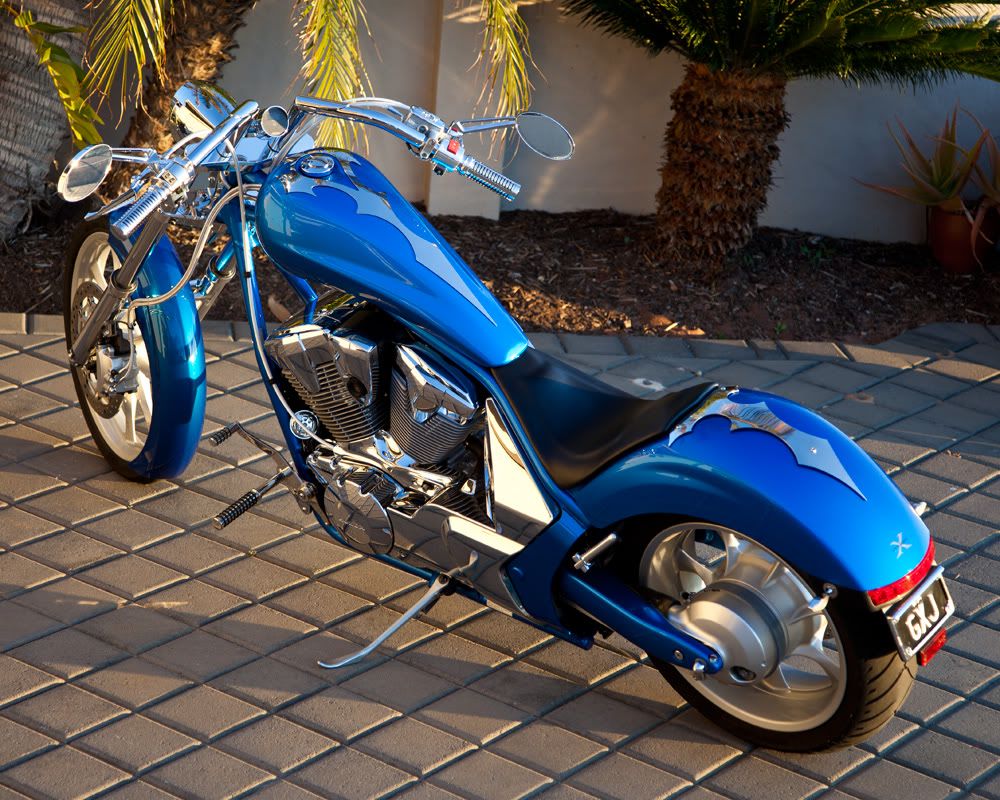 And a couple of close ups so you can see the tape and fitment to the tank.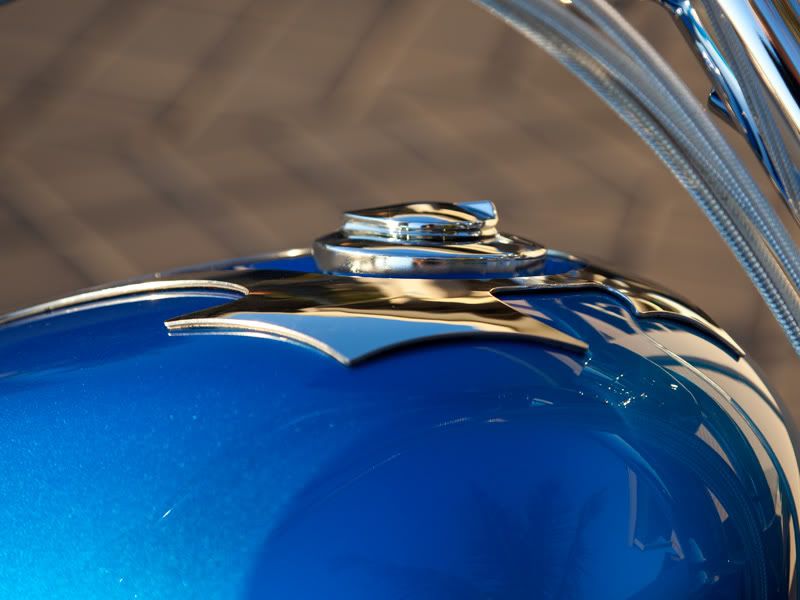 Well thats about it until the next mod .... starting to run out though ... but still have to adapt a pillion seat to the current setup so I guess that will be next.
Cheers
Guy
PS I better change this sign off photo ... no more girl on my tank!