**Option of the first poll question should be "I like the direction that IrateMarty went with the Tribal grill"**
Please leave your opinions for likes and dislikes...
Hey guys... good morning from this rainy day in SoCo... Anyways, IrateMarty Presented us with an idea for his tribal grill in the other tread that I started and though that I should start another tread for everybody to give their opinion on his tribal grill.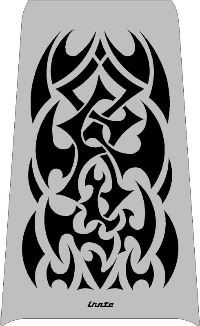 New Grill here:
I thought it looked pretty good actually, I also added to try and put Fury at the top of the grill in Tribal lettering, to at least see what it looks like and maybe make the inner lines a little thicker for stability and for it to be less likely to break. Anyway, thanks Marty sitting down and working on this, appreciate it!
Added the NEW grill so that you could see the design guys... Looks much better IMO....